This is a post by Dr Dave Chaffey, who is leading our next workshop in London, Social Media Marketing 2013. Read on to get a flavour of what you'll hear from Dave at the workshop and the conference…
When we think of social media marketing we often think of the individual social platforms and how we need to keep the social updates current through regular interacting and posting. A problem with this type of mindset is that you can soon end up with a siloed approach, particularly where, in a large organisation one person or a team is updating the social channels.
Likewise, you will often hear managers, recognising the importance of social media saying "we need a social media strategy". Again, I think this can lead to a siloed approach where social media activities aren't integrated with other marketing activities. At SMM13 I will explain 10 Best practices or approaches that are core to integrating social media marketing.
So, what are the alternatives? First, since social media marketing is "Always-On" with updates through the day needed by most brands, it's important to recognise that the goal of of social media marketing is to effectively engage customers while at the same time using persuasive updates to prompt sales via social media. Of course, what ultimately gains customer engagement are the quality of branded content and promotions. So, to underpin the social media strategy, a content marketing strategy and campaign plans linked to business goals are needed. Engagement is only going to happen when you the right type of insight from deep understanding of the online needs, behaviours and characteristics of customers as a starting point.
Putting this all together, this diagram shows the big picture of activities needed for integration. I recommend creating an integrated approach by developing quality branded content marketing at the core of engagement strategy with the types of content based on detailed customer personas.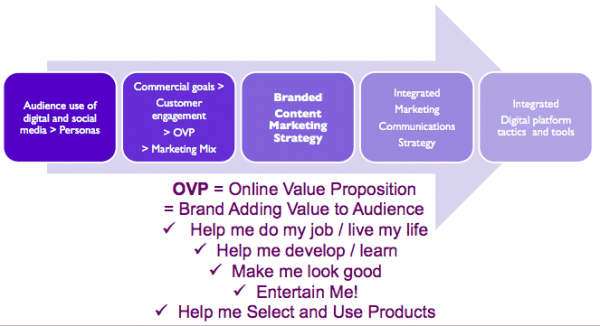 I'll explain how the most effective types of content can be created to engage different personas using the Content Marketing Matrix Tool. The diagram shows the importance of creating a sustainable online value proposition on a site which gets the sales-inform-entertain balance right.
At the SMM13 conference we will also look at the latest examples of companies that have developed effective OVPs and have communicated them across channels including social media marketing.
Dave will be running a workshop session on the 23rd October – 'Practical Social Media Planning' alongside speaker at our 24th October conference. Join Dave and our other fantastic speakers at Social Media Marketing 2013 (23/24 October, London) and hear about content and engagement marketing alongside Facebook strategies, B2B techniques and much more. Read the programme and book a ticket here.